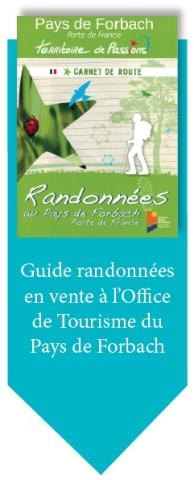 Hiking trails
Over hill and dale, pastoral landscapes and forests, follow the footpaths to explore our region. 9 circuits between 6 and 16 km enable you to explore the flora and fauna, as well as our notable historical heritage that can be found all along these routes.
Whether you are a seasoned hiker or simply out for a stroll or a walk with the family, you can always find a circuit to suit you.
Circuit du Galibot (11,1km)
This circuit takes you deep into the historic past of the commune of Petite-Rosselle. Here you can explore places that have managed to retain the industrial landscapes of the great coal mining history.
Circuit de la forêt de Ditschviller (7,7km)
This circuit lets you explore two very different landscapes: one takes you through a forested area, and the other to the heart of a former mining village.
Circuit de la Rosselle (9,7km)
This circuit, linking the communes of Cocheren, Rosbruck and Morsbach, offers you a panoramic view from both sides of the Rosselle valley, over hills, valleys and villages.
Circuit du Hérapel – Sainte Hélène (7,1km)
This circuit which crosses the picturesque village of Cocheren, brings you out at the historical Gallo-Roman site of Mont Hérapel through a landscape of green hills and valleys.
Circuit des Moulins (6,1km)
Starting point: Kerbach. This charming circuit leads you through the relics of the flour-milling industry, which developed long ago in this area.
Circuit de la Carrière de la Kreutzeck (16km)
Etzling, Spicheren, Alsting: this tour stands out for the richness of its historical and natural heritage.
Circuit du Grauberg (9,4km)
This circuit, which takes in various villages on the plateau, is sure to be an agreeable hike through a succession of wooded slopes and pastoral landscapes.
Circuit de Remsing (5,8km)
This circuit takes in the mediaeval gem that is Forbach, and lets you explore a landscape of green hills and valleys.
Circuit des deux villages sur un plateau (8,2km)
This 8.2 km circuit takes you around Folkling and Gaubiving, two communes on the plateau overlooking the Forbach conurbation.